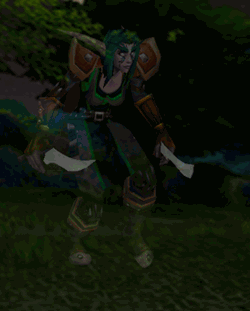 Basic Information
Edit
Name: Laurano Rivind
Nicknames: "Laur" "Laura"
Profession: Item Acquisition
Race: Night Elf
Class: Rogue
Professions: Picklock, skinning, pickpocketing,assasination
Guild: House of Stormrage
Physical Description
Edit
Hair Color: Green
Skin Tone: Light purple pink
Height: 7 feet, 2 inches
Weight: 110 lb.
Eye Color: Silver
Age: Around 568
Gender: Female
"Laurano" means "One with the Stars" in Darnassian.
Siara Rivind was a kind and gentle, but powerful, Druid. Fioro Rivind was a firm and fierce Hunter.
Fioro married Siara in Darnassus and went to live in Auberdine soon before Laurano was born.
Laurano was born in Auberdine.
Laurano had a close relationship with her parents. She did not have a very close relationship with her human adopted brother Kaben Rivind.
Laurano's basic principles: "Steal before you are stolen from" and "Survive in any possible way."
Laurano has always been stubborn and somewhat selfish.
Laurano works for whoever pays the highest sum.
Laurano's fondest memory is gardening with her mother.
Laurano's greatest fear is Death.
Laurano is proud of her weapons and her skills.
Laurano usually finds pleasure in annoying or tormenting the Crimson Hounds.
Laurano's favorite food is cheese.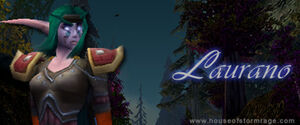 Laurano lived in Auberdine, on the western continent of Kalimdor, until her brother, Kaben Rivind, came and slaughtered her parents.

In fear of getting killed by Kaben and, in grief, Laurano fled to Ashenvale, where she was adopted by Grahil Firashko and his daughter Mioni Firashko. Lauranolived with the Firashkos for nearly five years.

Kaben tracked Laurano down and mortally wounded Grahil, kidnapping Laurano and Mioni with aid of his horde followers. They were flying on manticores when Laurano took the orc flying the manticore they were on captive, forcing him to go below the canopy of the forest. Laurano and Mioni wandered through the woods for days until they came to Auberdine, where they took the boat to Teldrassil.

Laurano and Mioni went to Dolanaar, and Laurano left Mioni while she went to speak to the Arch Druid. She found that he was friends with Kaben and told him where to find the two young Kaldorei. Laurano sent word to Mioni to hide while Laurano herself stormed into the Arch Druid's Quarters and attempted murder.

Laurano was unsuccessful. She fled to Stormwind City in the Eastern Kingdoms. After three years of living in exile, she returned to Teldrassil to end her brother's torment. She was unsuccessful in murdering Kaben, and visited Mioni in Dolanaar afterward, telling her sister that she had killed him. Mioni stayed behind to train as a novice priestess while Laurano went back to Stormwind to train as a rogue.


Profile Written by Laurano

Images by Star


Ad blocker interference detected!
Wikia is a free-to-use site that makes money from advertising. We have a modified experience for viewers using ad blockers

Wikia is not accessible if you've made further modifications. Remove the custom ad blocker rule(s) and the page will load as expected.