"Though the leaves may fall, and the trunks collapse, new life blooms in rot and mould to worship the sun once more."

- Maski Rainsong
Basic Information
Edit
Full Name: Rapha Rainsong
Nicknames: Rapha, Raph, The Gentle Giant, Nocturnal Bull
Race: Tauren
Class: Druid
Professions: Herbalism, Alchemy, Animist Blessings
Personality
Edit
"There's not a thing to be frightened of in the world, when you stand beside true friends and allies."

- Rapha Rainsong
"You're a fool and a coward. You'll find nothing but failure until you stop dreamin' and pick up an axe!"

- Elder Duskhorn
The full recounting of Rapha's early history can be read in the story "Rainsong".
Friends and Companions
Edit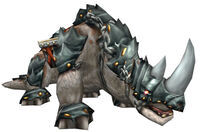 "That's umm... er.. quite an, umm.. beast you've got there!"
"Have? I don't have a thing. Her name is Pebbles. Why don't you tell her yourself?"

- Conversation between Rapha and Rukin of Bostrus
"Friendship crosses all boundaries - race, clan, or otherwise."

- Sister Druid Amanli (paraphrased)
"I will dream, and someday I will return."

- Sister Druid Ishoda
Clan Affiliation
Edit
"As of this day, the Claws are officially disbanded..."

- Peacemaker, former Chief of Claws of the Earthmother
"Storm, Earth, and Fire, heed my call!"

- Kadingo, StormMaster of "Storm Earth and Fire"
Ad blocker interference detected!
Wikia is a free-to-use site that makes money from advertising. We have a modified experience for viewers using ad blockers

Wikia is not accessible if you've made further modifications. Remove the custom ad blocker rule(s) and the page will load as expected.